The famous one… Indeed, Santorini's landscape is incredible. It's one of the few volcanic island of Cyclades. The crater have the shape of a semi circle. These huge cliffs, like battlements, are overcome by the photogenic white houses and church at blue cap.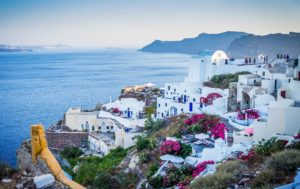 A lot of small or big boat make cruise in some places around the crater and its cliffs.
In the middle of the semi circle, Nea Kameni island intrigue by its dark and almost hostile feeling. Mainly composed by scories, this island represent the content of the ancient magmatic chamber.

The rest of the Santorini caldera is very touristic, but keep some values and cultures, despite the mass of ferry and motorbike to rent everywhere. Some raisin culture in the countryside contrast with the usual -but still gorgeous- touristic colorful houses.